Charge your electric vehicle at home
[Updated on July 18, 2022]
The energy transition on our roads is booming. Politicians and businesses are promoting electric vehicles; the population is increasingly switched on to environmental issues; and at the same time, more and more electric vehicles suitable for daily use are being produced. However, e-mobility is truly sustainable only when the charging current comes from renewable energy sources. To ensure that you can charge your electric vehicle reliably at all times and, ideally, using solar power generated on your own roof, we developed the SMA EV Charger charging solution. This allows you to convert your solar harvest cost-effectively and climate-neutrally to miles on the road.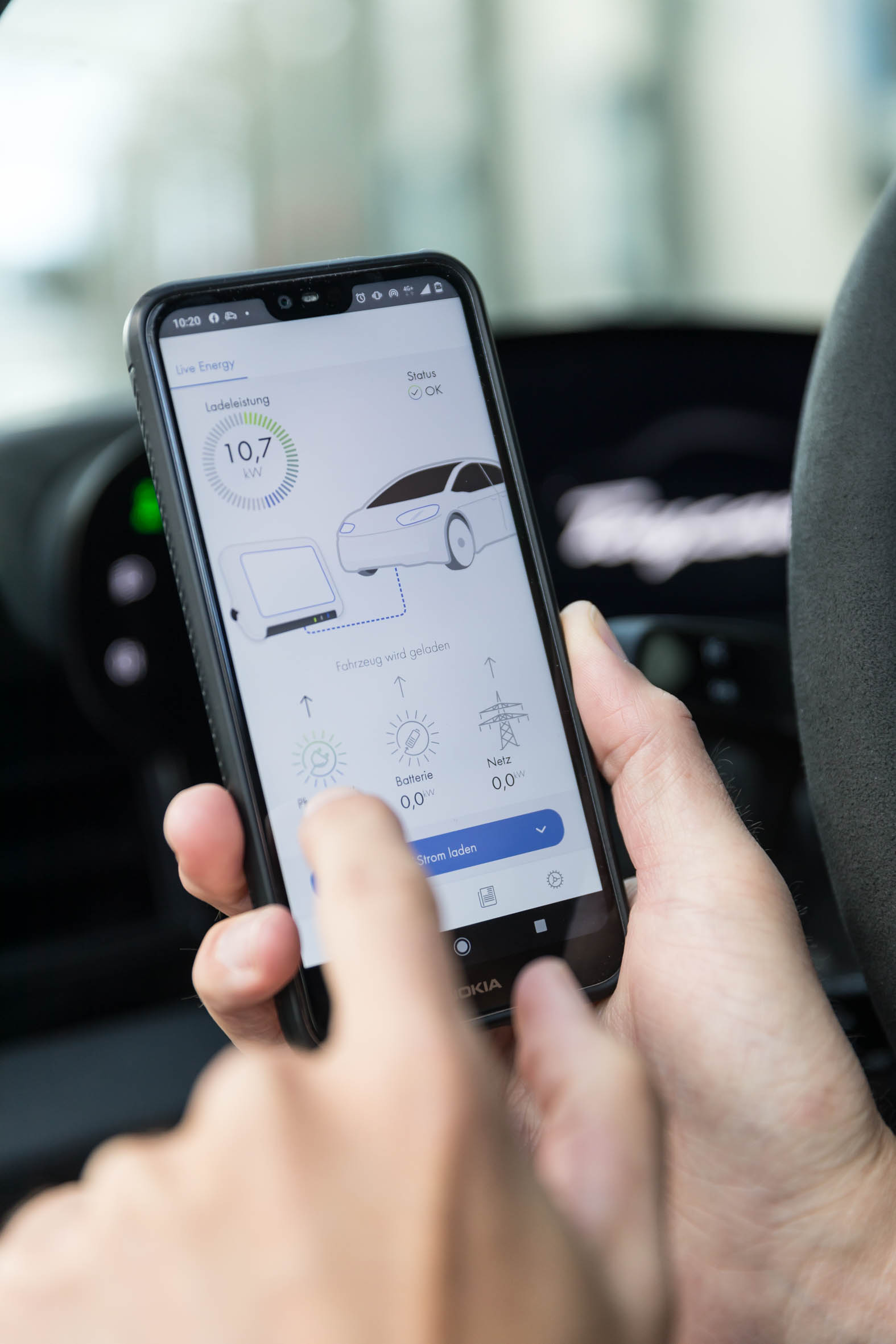 Even in Germany, which is not exactly the sunniest country in the world, 12 square meters of collector surface on your roof are theoretically enough to fuel around 10,000 kilometers of cost-effective, zero-emissions driving per year*. And it doesn't matter whether you're an experienced solar pioneer or a newcomer to producing and "filling up" with solar power, because you can integrate the SMA charging solution into your solar system at any time – even retroactively.
Intelligently combine electricity and mobility
How can you know if your electric vehicle really is being charged with your own self-produced electricity? Simply by looking at the SMA Energy app on your smartphone. Using this app, you can easily control your charging processes and see at a glance how much of your valuable solar power is currently being converted to miles on the road. The app also allows you to keep a constant eye on the most important SMA Energy System Home data.
Cost-effective and zero-emissions driving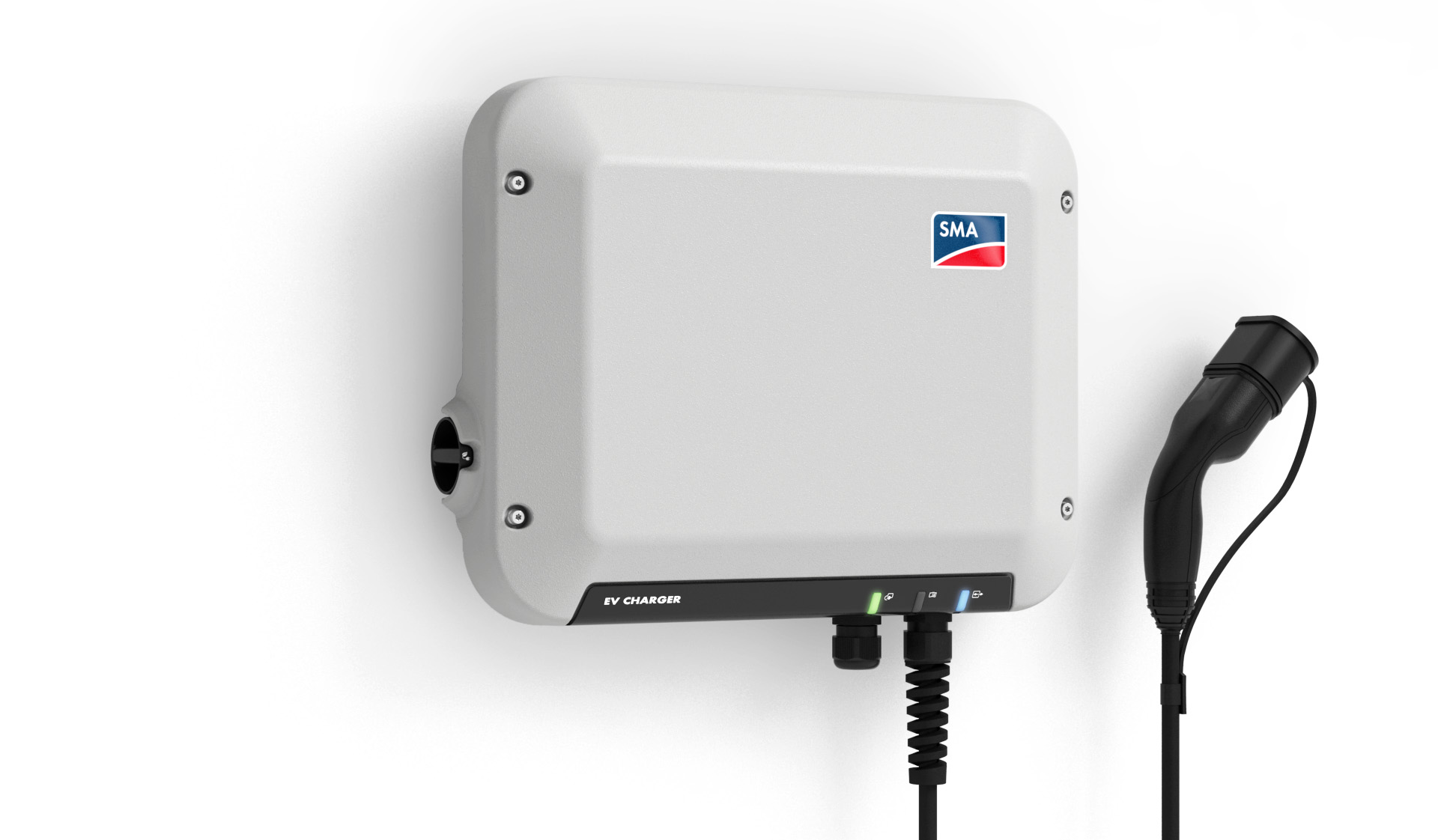 SMA EV Charger is fully harmonized with your SMA Energy System Home components. This means that your solar power professional can integrate the wall box into your existing PV system anytime, instantly giving you your own solar charging station on your doorstep.
But how can you refuel with solar power? Sunny Home Manager 2.0 uses regional meteorological data to create a generation forecast, which it compares against your own consumption behavior. It then automatically controls the charging processes depending on the charge mode so that your solar power is fed to your car, not the utility grid. This allows you to optimize your self-consumption and save on the cost of grid-supplied power. Combined with a battery-storage system, you can charge your car with solar power, even when the sun isn't shining.
Perfect partners: solar power and e-mobility
When charging, SMA EV Charger automatically combines utility grid and solar power and can charge single-phase with 7.4 kW – thus almost twice as fast as conventional wall boxes, which usually only charge with 4.6 or 3.7 kW due to an unbalanced load. Even small solar capacities can be utilized to the maximum early in the morning and evening thanks to the automatic switchover from single- and three-phase charge modes.
Quickly ready to hit the road
With SMA EV Charger, you can choose whether you want to charge your electric vehicle quickly, in a PV-optimized or forecast-based manner. You simply enter your charging target – that is, your planned departure time and the amount of electricity to be charged – in the app, and the Sunny Home Manager schedules charging intelligently and at minimum cost, ensuring that your car will be ready when you need it. And because as a system operator, you want to operate as many loads as possible with your self-generated solar power, SMA EV Charger dynamically adjusts the charging power in line with the current circumstances, protecting your house connection from overload and power outages.
Benefits of SMA EV Charger at a glance
Maximum use of self-produced solar energy
Faster charging of your electric vehicle
More cost-effective charging thanks to intelligent charging modes
Zero-emissions mobility
High level of safety thanks to power outage protection
Connecting up to three SMA EV Chargers to one Sunny Home Manager 2.0
Fast and automatic service with SMA Smart Connected
System solution from a single source
*Based on the following assumptions: Renault Zoe consumption (18 kWh/100 km); 6 m²/kWp collector surface; annual yield of 950 kWh/kWp, date: January 2020.
https://en.sma-jobblog.com/wp-content/uploads/2020/09/kv-sma-ev-charger-bearbeitet.jpg
676
1400
Lisa Spangenberg
/wp-content/themes/enfold-child/images/SMA-LOGO-Color_s-1.png
Lisa Spangenberg
2020-09-17 15:33:52
2022-07-21 18:11:49
Charge your electric vehicle at home