How Audi and SMA Are Connecting E-Mobility and Solar Power
E-mobility is an important milestone of the energy transition. The majority of car manufacturers already have electric models in their ranges. One of the crucial factors for consideration is how to charge these e-vehicles. Drivers want this to be as easy, flexible and cost-effective as possible. Carmaker Audi and solar energy expert SMA are pooling their e-mobility and energy management expertise in a new development. The new Audi e-tron with the Connect charging system can thus be integrated into intelligently networked homes. Gerhard Paris and Axel Vogel from AUDI AG explain how the technology works.
What requirements do customers currently have of e-mobility? And what will be important going forward?
Axel Vogel: E-car availability and performance are the most important priorities. The car has to be as easy to use as a conventional drive vehicle — customers don't want to compromise. The charging process comes second in the list of priorities. Drivers want a fast, reliable and natural way of charging their cars — ideally using sustainably produced green energy. For PV system owners, making optimal use of self-generated energy with a high level of self-consumption is equally important. In a nutshell, they want to use the energy they have generated themselves free of charge as a direct means of charging their vehicles.
Gerhard Paris: One challenge for the future will be grid stability, taking into account a higher share of renewable energies and the growing number of electric cars. This will require intelligent energy management based on current and foreseeable requirements. Battery-storage systems, for example, which offer a stationary means of temporarily storing smaller amounts of energy short term, can be used as a buffer to offset fluctuations between production and consumption and to stabilize grid frequency. This can prevent grid overload.
Various charging stations for electric vehicles already exist. What is special about the Connect charging system?
Axel Vogel: Unlike a charging station, which is in one fixed place, the Connect charging system can be used on the go. Thanks to its standard grid connection cable, the Audi e-tron can be charged using all conventional household and three-phase sockets with an output of up to 22 kW. There is a range of replaceable plugs available for caravan sockets (three-pole CEE sockets) and country-specific sockets. The Connect charging system allows customers to track both their individual charging statistics and the charging process in the myAudi portal, on the myAudi app or on the built-in touchscreen. In addition to the charging times and the amount of electricity used, the relevant costs are also presented in detail. When the charging system supports the Home Energy Management System (HEMS), customers will also be able to see how much self-generated solar power their cars are consuming. Software updates are uploaded online. The charging system is protected against unauthorized use and is not activated until the vehicle is "connected."
What are the benefits of using the Connect charging system with SMA's Home Energy Management System (HEMS)?
Gerhard Paris: Users benefit from a range of intelligent functions for integrating their cars seamlessly into the smart home. The HEMS influences the charging process by waiting until the electricity tariff is lower to charge the e-car, taking into account the departure time and current energy requirements, and by prioritizing use of free solar energy to charge the vehicle if a PV system is available. SMA's energy management system also factors in predicted hours of sunshine. In addition, the system always permits the maximum available power that the house connection and the car allow for charging, taking into account the needs of other home appliances and avoiding overloading the house connection.
When will customers be able to use the Connect charging system to integrate the Audi e-tron into the SMA HEMS?
Gerhard Paris: Our project is entering the home straight and we've made great strides along the way. Our customers benefit from the common EEBUS communication standard, which enables all devices networked within the system to communicate with each other. This has been successfully tested at two Plugfest events (SMA Energy Management on the Internet of Things and The Heating Communicates With the Car).
The project is now in the final test phase and the first round of field tests are set to commence in the next few weeks. The market launch is scheduled for mid-2019 — just a few months after the Audi e-tron is launched on the market.
What opportunities for e-mobility will arise from the partnership between Audi and SMA?
Gerhard Paris: We are driving forward sustainable mobility by establishing a partnership between the automotive industry and solar/energy experts. The Audi e-tron is helping Audi to make the transition from a pure automotive manufacturer to a premium mobility systems provider. After all, simply supplying the car is no longer enough when it comes to e-mobility; our customers expect us to provide them with a holistic ecosystem. Home charging — high-performance, completely networked and ideally sustainable — is an important aspect in this regard. Our two companies complement each other perfectly when it comes to satisfying this requirement. SMA is a specialist in energy management and Audi is an automotive expert.
Personal details: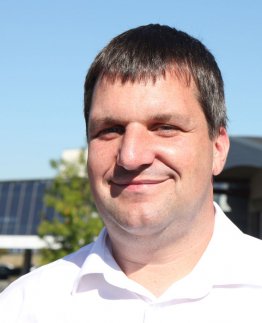 Axel Vogel is a subject specialist at AUDI AG and is responsible for smart charging developments. One of his previous roles at Audi was as a developer of off-board charging technology, where his responsibilities included fuse protection for electronics. As an operator of two PV systems himself, he is a self-confessed advocate of the energy transition and renewable energy generation using solar and wind power.
"E-mobility is just a lot of fun. Once you give it a try, you'll never look back. Most users will find that e-mobility is fully suitable for day-to-day use — as long as they have a good system range that enables extensive access to public charging stations, for example, and a charging system that can also connect to their PV systems and increase their self-consumption quota."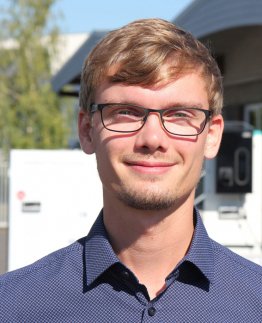 Gerhard Paris is a function developer for AUDI AG and is responsible for the smart charging development area. He has a master's degree in e-mobility and energy grids from OTH Regensburg.
"E-mobility will only triumph when all areas, including those outside the vehicle such as energy management system providers, grid operators and power supply companies, work hand in hand and customers are willing to leave behind their old habits and embrace new realities."
Both men were invited to SMA, along with the new Audi e-tron, to conduct a live test of the new system.

What SMA says:
"Together, e-mobility and renewable energies can take a giant leap forward. The SMA Data Manager combines intelligent charging technology and future-proof energy management in one integrated solution for the home. The Data Manager intelligently manages all energy consumers and allows the user to visualize all energy flows. The Sunny Portal monitoring portal powered by ennexOS enables users to keep an eye on the energy consumption and operating data of their home appliances at all times and identify potential savings."

Bo Lonborg Mueller from SMA
If you have questions about SMA's HEMS and charging technology, send an e-mail to Bo.Mueller@SMA.de.
https://en.sma-jobblog.com/wp-content/uploads/2018/10/Audi-etron-sma-solar-energy-management.jpg
676
1400
Dagmar Buth-Parvaresh
/wp-content/themes/enfold-child/images/SMA-LOGO-Color_s-1.png
Dagmar Buth-Parvaresh
2018-10-04 08:47:25
2022-08-29 16:06:40
How Audi and SMA Are Connecting E-Mobility and Solar Power