More Than Just Organic Products: Supermarket Uses Solar Power and Saves Energy Costs
When you do your weekly shopping at aktiv & irma, you can not only marvel at the outstanding architecture, but also enjoy the experience of shopping in a highly energy-efficient environment. Almost all electrical devices are interconnected through an intelligent energy management system, allowing the supermarket to generate and consume electricity in a sustainable manner.
Locally produced organic yogurt, fruit and vegetables; baskets instead of plastic bags — for many supermarkets, this is already a matter of course. However, the aktiv & irma supermarket in Oldenburg, northern Germany, takes sustainability to a whole new level with a 99-kWp, roof-mounted PV system, a 60-kW battery-storage system in the supply room for storing surplus solar energy and an intelligent energy management system. The results are impressive.
Surplus electricity is stored for later use
The roof-mounted PV system has been generating solar power for just over a year, which is either consumed directly by electrical devices in the supermarket or stored in the battery-storage system ready for use when the sun goes down. When it is dark or particularly hot and more energy is needed, the electricity is drawn from the battery and does not need to be purchased from the grid operator at expensive tariffs.
Customers can use solar power to charge their electric vehicles
A software-controlled battery-storage system enables the PV system in aktiv & irma to achieve self-consumption levels of more than 98%. A nice side effect of this is that customers can use free, self-generated PV electricity to charge their electric vehicles while they are shopping.
"Around 135 MWh of our self-generated solar power have been consumed directly in the supermarket since the system was commissioned back in July 2018, enabling us to save around 65 tons of CO2," explained Frank Reichenbach, Head of Market Unit Commercial at coneva, which developed the energy management system for the supermarket in Oldenburg. "This is roughly equivalent to the annual emissions of a five-person household."
Energy producers and consumers intelligently interconnected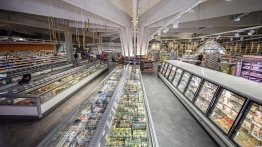 The energy system in the supermarket not only integrates innovative hardware and software components from SMA and Danfoss, but also comprises numerous monitoring systems, valves, frequency converters and controllers in addition to the modules, inverters and battery-storage system. One of the latest innovations is the digital energy management system. The intelligent ennexOS energy management platform allows to connect different energy producers to consumers and controls energy flows to and from the energy storage system. It also decides when and which sources can be utilized most efficiently. A Danfoss system manager ensures the correct temperature and pressure levels in the supermarket's cooling and refrigeration system to minimize energy consumption.
"We are combining the energy management system for cooling with other energy systems in the supermarket. The next step, which we also want to pilot, is to synchronize this new-found flexibility with the requirements from the utility grid, the aim being, if possible, to integrate all energy consumers in the building — for example, the lighting, in-store bakeries and charging stations for forklifts and electric vehicles. Our goal is a holistic energy system."

Dirk Leinweber, Director, Food Retail Sales at Danfoss
Recycled heat reduces heating costs
The supermarket is heated almost completely autonomously through the surplus heat generated by the refrigerated counters. The surplus heat is recycled, which helps reduce heating costs.
"We call this process 'functional storage' because it helps supermarkets achieve a more flexible, more sustainable and more eco-friendly energy system."
Benefits at a glance:
Cost-savings thanks to less purchased power
Self-consumption levels of self-generated PV electricity can be as high as 98%; taking into account production costs, which means additional savings of around 10% on electricity costs.
Peak load shaving reduces the price per kilowatt of network charges by up to 35%
The battery-storage system enables peak load shaving and dynamic load control and reduces the costs for purchasing power.
Cross-sector energy management avoids expensive peak loads
The energy-intensive refrigeration systems and charging infrastructure can also be used for shifting loads, potentially freeing up a further 20 kW for avoiding peak loads.
Technical details of the energy system:

ennexOS IoT energy management platform from SMA: Interconnects and controls all producers and consumers in the local energy system.
Gateway: SMA Data Manger M: Records and transmits high-resolution data for further processing. This data is then used for monitoring and controlling the devices as part of dynamic load control.
Store solar power and use it flexibly: Sunny Tripower Storage battery inverter and Tesvolt TS 70 HV: Offering 60 kW of power and a capacity of 67 kWh, the storage system in the test facility enables peak load shaving of up to 35 kW.
99 kWp PV system: Reduces the amount of electricity that needs to be purchased and saves around 10% on energy costs.
Mennekes charging station for electric vehicles: Customers can use solar power to charge their electric vehicles. Energy from the battery-storage system and dynamic load control avoids peak loads.
https://en.sma-jobblog.com/wp-content/uploads/2019/09/0_Blogpic1.jpg
676
1400
Dagmar Buth-Parvaresh
/wp-content/themes/enfold-child/images/SMA-LOGO-Color_s-1.png
Dagmar Buth-Parvaresh
2019-09-18 15:41:17
2022-08-29 16:06:14
More Than Just Organic Products: Supermarket Uses Solar Power and Saves Energy Costs