(R)evolution of the home storage system
Michael Ebel has spent the past decade specializing in home storage solutions. As someone who was there right at the start for SMA, he gave us a detailed insight into the market for this interview. He talks about accelerated development processes, reveals exactly what constitutes a good partnership and tells us why the battery in the home storage system should be considered right from the start.
SMA launched the first home storage solution for increased self-consumption ten years ago. What do you particularly remember from this time?
Michael: The market has always been growing at a tremendous pace. Battery-storage systems are now an essential element of a successful energy transition. Nowadays, more than 60,000 SMA home storage systems are helping our customers worldwide enjoy energy independence. That's a fantastic success. But the process of getting to where we are now was far from straightforward. Well-known companies came and went; the technology was constantly enhanced and refined. We launched the first compatible modular lithium-ion battery back in 2011 because we were committed to increasing overall system longevity. But lead-based systems continued to hold the upper hand until as late as 2014. The year 2015 saw the technological transition – long-awaited by us – to lithium-ion batteries thanks to increasing funding opportunities, such as the German KfW program 275, which contributed as much as 30 percent of the costs for the storage system. With Sunny Boy Storage 2.5, in 2016 we then launched the first AC-coupled home storage system with a high-voltage lithium-ion battery, making it even cheaper to store solar power.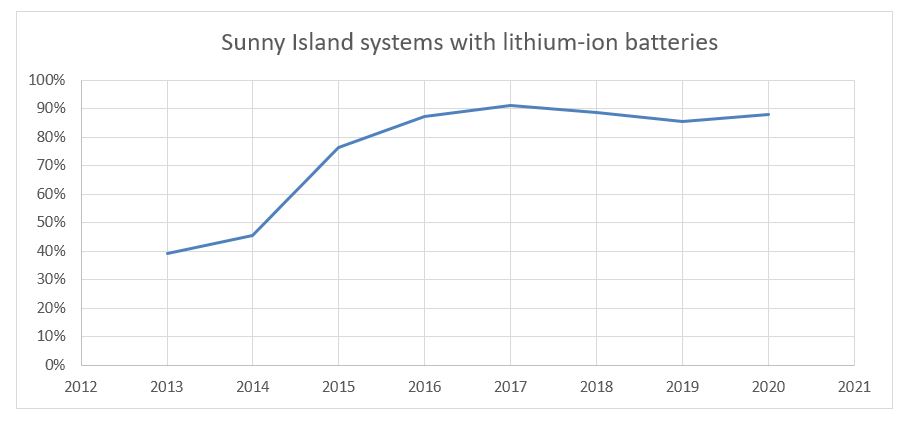 What have you learned after a decade in the business of home storage systems?
The market is extremely dynamic. For a whole number of reasons, many manufacturers acknowledge that their batteries have only a very short product life cycle. Some big manufacturers had their batteries on the market for less than two years – Mercedes-Benz Energy Home, for example.
In addition, successor battery generations almost never preserve backward compatibility with the previous model. This affects low- and high-voltage batteries alike and, in turn, the entire market. This means that system operators often have no easy way to upgrade once a battery has reached the end of its service life and may need to replace a still working inverter. We're also asked time and again about the ability to retrofit batteries after several months or years – after all, the price of lithium-ion battery-storage systems has more than halved over the past few years. A subsequent expansion of the battery capacity is therefore very attractive. This is why it is all the more important that we develop our systems with batteries offering the highest possible degree of backward compatibility. When operators invest in a home storage solution, they have to be confident that the solution is fit for the future. After all, the system is designed to reliably supply your household with power around the clock and over many years.
How exactly does a backward-compatible battery inverter solve the problem of a battery that's no longer available on the market?
Our battery inverters are backward-compatible with the latest-generation lithium-ion batteries and vice versa. Lead-acid batteries, such as those deployed in the first 10,000 installed home storage systems, can be replaced with a compatible and more cost-efficient lithium-ion battery that we have approved.
But the reverse situation is also true: In 2011, we approved the "Sony fOrtelion" battery for use in the Sunny Backup battery inverter. The device has long since been replaced by Sunny Island*, but the battery still works three generations on. This ties in very strongly with our sustainability mindset. Our systems are robust and designed to last 20 years. And we have to ensure that the battery – the most cost-intensive and critical component – is also future-proof. Crucial to achieving this is the collaborative and long-standing partnership between us and the battery manufacturers – after all, a home storage solution ultimately has to function as a complete system.
Michael's tip: Since 2011, SMA has certified more than 30 different lithium-ion batteries from a whole range of manufacturers for use in SMA battery inverters. You can find all the high- and low-voltage batteries currently approved for SMA battery inverters Sunny Island and Sunny Boy Storage in the compatibility list in the download area at www.SMA-Solar.com > Service & Support > Category > Product family > Background Knowledge
OK, let's be honest: How hard is it really to run a storage system?
With the right technology, a small solar power system at home or in a company will be completely self-sustaining. The aim has to be to utilize the solar energy from your roof automatically and always to the optimum extent in your home. This is supported by devices and a range of integrated features that system operators can always rely on to intelligently charge and discharge the battery. After all, today more than ever, it's important to ensure a secure energy supply without fossil fuels and provide opportunities for integrating power, heat and mobility at home too. Thanks to the multi-battery concept behind Sunny Boy Storage, we are also pursuing this strategy in the area of home storage solutions. System operators enjoy maximum flexibility because they can connect up to three different battery types and can actively shape the energy transition within their home. We want to ensure that they can always operate their home storage systems with the maximum possible degree of sustainability and future viability. After all, the future demand for electricity is only going to grow.
What are you doing to promote sustainability in your own home?
Our PV system is currently generating five times more electricity than we're using, which is why we've connected an additional domestic hot water heat pump so that we can efficiently utilize this surplus energy. Of course, my past at SMA means that Sunny Home Manager 2.0 and the Sunny Island battery inverter are integral parts of my home solution – not least because we want to keep all expansion options open. Sunny Island 8.0H and two Sunny Boy systems give us total flexibility, allowing us to increase self-consumption, retrofit a replacement power supply or operate the system as a completely stand-alone solution. We're ready for anything.
Where would you like to see a little more sun?
On the north side of my roof, of course ?. But I'd also like to see a little more sun on the roof of the German Federal Ministry for Economic Affairs and Energy so that Mr. Altmeier can finally take serious steps to advance the energy transition.
Would you like to find out more about our home storage solutions?
*Firmware updates may be necessary. These can be found in our download area on www.SMA-solar.com > Service & Support > Downloads > Category > Product family > Software.

https://en.sma-jobblog.com/wp-content/uploads/2020/12/2020-12-15-expert-chat-Ebel-blog.jpg
676
1400
Anke Baars
/wp-content/themes/enfold-child/images/SMA-LOGO-Color_s-1.png
Anke Baars
2020-12-16 18:53:26
2020-12-16 19:44:14
(R)evolution of the home storage system