SMA helps Hibernia Steel go green
SMA technology has helped Hibernia Steel achieve three major benefits. The company has achieved 40% energy self-sufficiency; cut its annual energy bill by 10,000 EUR; and reduced its CO2 emissions by 50 tonnes per year.
The steel industry is a heavy energy consumer. Hibernia Steel, Ireland's largest independent steel supplier with over 15,000 tonnes of steel in stock, uses 200 MWh of electricity per year. Based in County Meath, its shotblasting, priming, cutting and drilling processes consume particularly high amounts of energy. The company was therefore looking for a reliable, clean energy solution to generate green energy, reduce its environmental footprint, and cut costs. First step was to talk with Crowley Carbon.
Solar array proves ideal solution
Headquartered in Enniskerry, County Wicklow, Ireland, Crowley Carbon is an engineering services company that specializes in helping manufacturing companies and commercial buildings achieve net zero carbon.
After examining the Hibernia Steel site – and noticing the large expanses of south-facing roofs – Crowley Carbon proposed a rooftop solar array. Following the go-ahead from Hibernia Steel, Crowley Carbon designed, engineered and installed nearly three hundred 370 W Tier 1 solar panels. The whole project took six months, from beginning to end, and required no shutdown of the steel plant. Installation took just ten days. Two SMA technologies play a key role in the solution.
SMA's Sunny Tripower CORE2 Inverter
In addition to the solar panels, Crowley Carbon installed one SMA Sunny Tripower CORE2 Inverter. It converts solar power (direct current) into usable alternating current. This inverter is designed to provide optimal flexibility in system design for large-scale rooftop solar systems such as this one in County Meath. An out-of-the-box solution, it comes with integrated PV performance optimization, which ensures efficient installation and service. As a core element of SMA's Energy System Business and the ennexOS IoT platform for energy management, the Sunny Tripower CORE2 Inverter can be easily extended to meet any future array expansion requirements.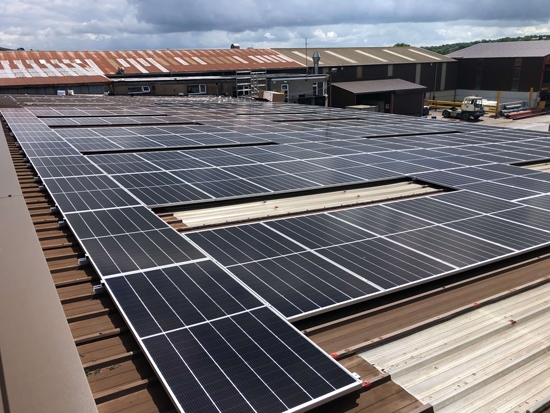 Key features:
Best in class: 12 MPP trackers for maximum design flexibility
24 strings with Sunclix connectors
Up to 150% over-dimensioning of PV array
Up to 1,100 VDC
Bifacial modules supported
SMA ShadeFix
One of the reasons behind the choice of the Sunny Tripower CORE2 Inverter is that it incorporates SMA ShadeFix technology. This innovative technology avoids a common and frustrating problem with solar arrays. Normally, if one solar panel in an array gets shaded – for example by a tree, chimney or other obstacle – its production drops to the lowest common denominator. This reduces energy yield and extends payback time.
With ShadeFix, that shaded panel gets isolated, so has no effect on overall efficiency. Once the shading is removed or disappears, that panel resumes its normal collection of energy. With its patented algorithms, SMA ShadeFix is the only solution that always generates the highest possible yield from a PV system.
Read our white paper on SMA ShadeFix. It includes the results of a study conducted by the University of Southern Denmark that compares SMA's advanced PV optimization technology with other forms of optimization under a variety of unshaded and shaded conditions.
Impressive results
Hibernia Steel is delighted with its new solar installation. By producing 100 MWh/year of its own green energy, the site is now 40% energy self-sufficient. It has seen its energy bills fall by a massive 10,000 EUR per year. And Hibernia Steel has calculated that its CO2 emissions have fallen by 50 tonnes per year.
Check out all the features of the STP CORE2 inverter: SUNNY TRIPOWER CORE2 – Solar Inverter | SMA Solar
https://en.sma-jobblog.com/wp-content/uploads/2021/11/Sma-Hibernia-Steel-img_2.jpg
1129
1920
Mila Druwe
/wp-content/themes/enfold-child/images/SMA-LOGO-Color_s-1.png
Mila Druwe
2021-11-15 11:20:10
2021-11-15 11:20:10
SMA helps Hibernia Steel go green