Update – Sunny Home Manager 2.0: Use 100% Solar Power
There may never be enough solar power in the household for your own personal energy transition. The Sunny Home Manager 2.0 provides some practical help in this respect. It automatically distributes the power from the roof within the household according to where you need it at that time: for washing the dishes or doing the laundry, integrating a heat pump or charging your electric car. It doesn't get any simpler or greener than this. A new update is now making the Sunny Home Manager 2.0 even smarter.
As the brain of the energy supply, the Sunny Home Manager 2.0 makes your home an all-round sustainable smart home. Its job is to use the green solar power from your PV system directly within your household and avoid drawing expensive electricity from the grid. That spares the household budget and the environment. And it requires virtually no effort at all on your part.
Maximum convenience, minimum electricity bill
Well in excess of 65,000 households around the world have already fully switched to solar power with the Sunny Home Manager. This is helping them become independent from energy suppliers and save up to 60% on energy costs.
More than just a threshold circuit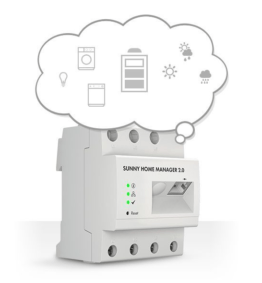 As a smart interface between the PV system and your appliances, the Sunny Home Manager automatically gets to know your energy needs within 14 days. Based on online weather forecasts for the next 48 hours, it always calculates the energy budget according to your individual requirements. What is more, it does so with complete precision. It even provides tips as to where you could still save energy.
7 Reasons for the Sunny Home Manager
Solar energy in the tank
If you always set off for work in your electric car at eight o'clock sharp, the Sunny Home Manager will ensure that the battery is charged with solar power on time. As a result, you can drive without any refueling costs whatsoever.
Turning your white goods green
If you want your washing machine, dryer and dishwasher programs to be finished when you come home, the Sunny Home Manager will start the machines automatically when there is enough solar power available.

Solar power in reserve
If you want to use solar power even after sunset, the Sunny Home Manager can store excess solar power in the battery or heat the water in the water tank, thus making solar energy available around the clock.
A clear view with Sunny Portal / apps
You can keep an eye on your energy budget at all times via the Sunny Portal for monitoring. This enables you to see precisely how the Sunny Home Manager distributes energy, which devices are currently active and where in particular energy savings could still be made.

EEBUS uniform communication standard
Many manufacturers integrate the EEBUS interface for energy efficiency into their devices. That way, all devices speak one language and can exchange data among themselves. The controllable home appliances can then exchange data with the Sunny Home Manager 2.0 very easily.

Collaboration partners use SEMP protocols
With its collaboration partners, SMA enables the Sunny Home Manager 2.0 to be connected to selected home appliances using SEMP protocols. Simply install the software via plug and play and the heat pump will automatically coordinate with the Sunny Home Manager 2.0 to find the best time to heat the household with solar energy. The possible applications grow with every further collaboration.
Control using radio-controlled sockets
If the devices do not support EEBUS or SEMP, they can also be integrated into intelligent energy management via radio sockets. The Sunny Home Manager 2.0 is compatible with selected WLAN radio-controlled sockets from electronic supply stores, currently Edimax and AVM. These radio-controlled sockets switch appliances on and off using control signals from the Sunny Home Manager 2.0. Those suitable include washing machines, dishwashers, dryers, immersion heaters, pumps and many more.
Even greater intelligence with the latest firmware update
Here are the details of the latest release for the Sunny Home Manager 2.0:
Forecast-based charging
Users are able to specify a value (a percentage) up to which the battery is to be charged in any case before the forecast-based distribution of energy begins. This means that they remain independent from the public grid, even in the event of spontaneous energy demand, because the battery then provides stored solar power.
Support for new radio-controlled sockets
Starting with version 2.3, the SHM 2.0 supports new AVM radio sockets that are connected to the router via DECT technology :
AVM DECT!200
AVM DECT!210
Battery before optional appliance
Users who have a heating element from MyPV, for example, can now decide the sequence for themselves using a checkbox – according to individual requirements.
Outlet start-up detection
With this function, the SHM 2.0 automatically detects when dishwashers, washing machines or self-configured appliances are starting up via the connected radio-controlled sockets from Edimax and AVM and starts in automatic mode. This function is already proven in the Sunny Home Manager Bluetooth and replaces the previously necessary manual switching to automatic mode via Sunny Portal.
The update will be available from week 50. If you have activated the automatic update function, you do not have to do anything further.
https://en.sma-jobblog.com/wp-content/uploads/2019/11/kv_shm2-0_620x300.jpg
300
620
Falko Schmidt
/wp-content/themes/enfold-child/images/SMA-LOGO-Color_s-1.png
Falko Schmidt
2019-11-28 09:56:09
2023-07-06 19:39:40
Update – Sunny Home Manager 2.0: Use 100% Solar Power