Why a north-facing system pays off
Whether a pointed gable, tented roof, modern city villa, single-family home or apartment building: solar modules pay off. The more, the better. Even on the north side, PV modules pay off. With the Sunny Design planning software, you can now display up to six module arrays during system planning. This delivers more energy yields and makes system operators independent of rising electricity prices. We will show you how to do this.
"Cover the rooftops entirely; preferably including the north side," said SMA Product Manager Thomas Straub, before proceeding to explain why: "Admittedly, PV systems on the north side generate 30 to 40 percent less solar power than an average PV system under optimal conditions. However, the lower the incline of the north-facing roof surface, the greater the yield. With diffuse light, a north-facing roof equipped with a PV system produces just as much energy per square meter."
Diffuse light is referred to as soft, low-contrast light and occurs when the sky is overcast, in misty conditions or under trees.
In the summer, the sun even shines directly on north-facing roofs (south-facing roof in the southern hemisphere) in the mornings and evenings – from the north-east as it rises and from the north-west as it sets. With modern roof designs such as tented roofs in particular, having a north-facing installation can therefore pay off.
Maximum self-sufficiency with solar power
System operators with a purely south-facing system often cannot use the electricity they generate themselves because they are not at home at midday during periods of peak solar power generation. As a result, without a storage system to absorb solar power, a large proportion needs to be fed into the utility grid.
In times of climate change, ever-increasing rising electricity prices and decreasing feed-in tariffs, the trend is towards maximum self-sufficiency with solar power. System operators would like to cover the majority of his electricity needs with self-generated solar energy.
Therefore, suitable roof surfaces are equipped with solar modules that are oriented in all directions, if possible. The system then generates solar power in the morning, at noon and in the evening, which can be used immediately in the household. Only the surplus is fed into the public grid.
Easily planning complex systems: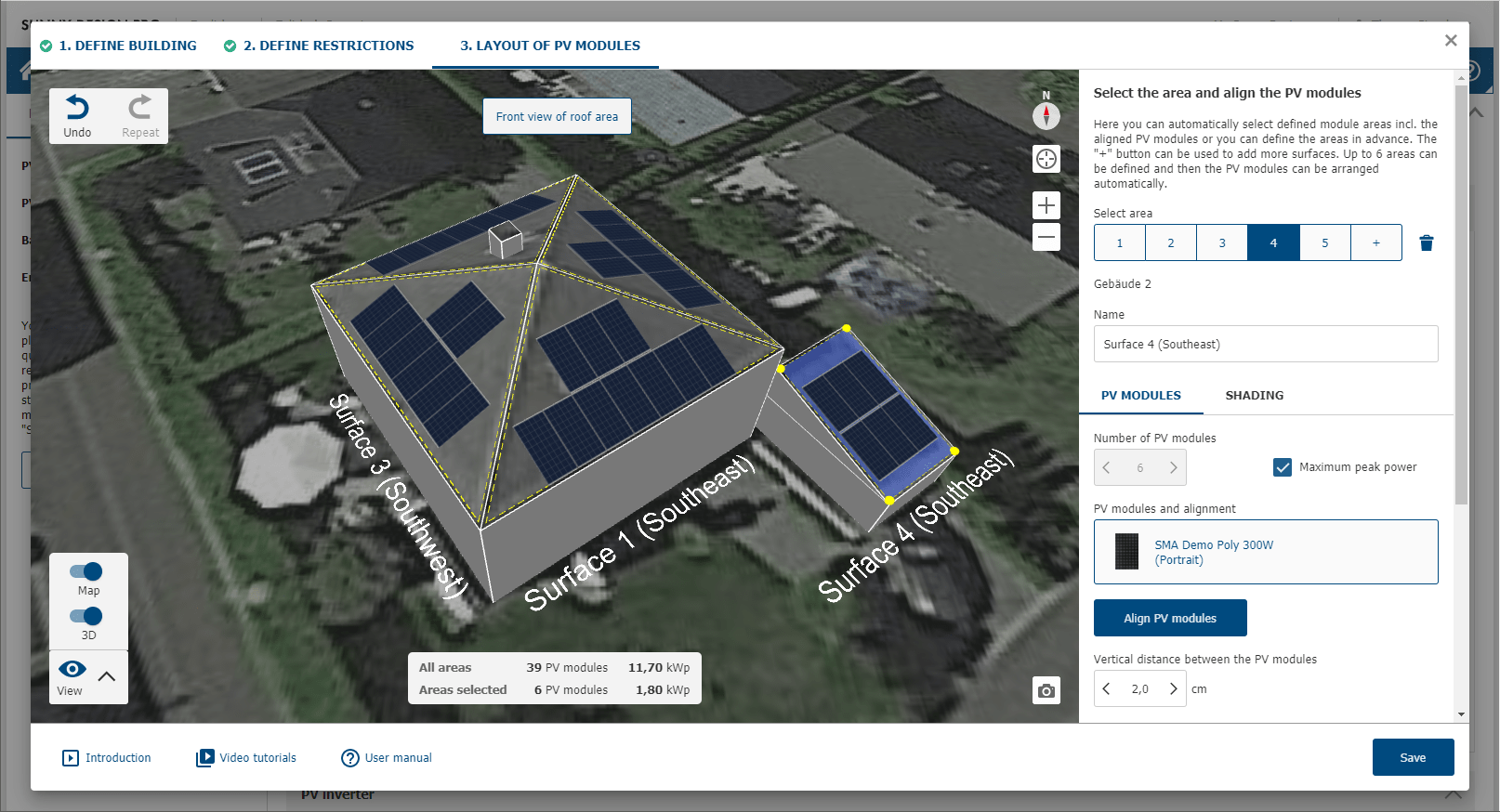 It doesn't matter whether it is a farm building with a barn, commercial premises, parking ramps or modern tented roofs: Simply select the appropriate buildings into your Sunny Design project. The tool allows you to select up to six module arrays which makes it possible to implement highly complex scenarios in your subprojects. You can also have the software arrange the modules automatically.
Tip: Also check whether existing carport or garage roofs are suitable for solar modules. This can be particularly practical when installing future charging infrastructure for e-mobility. Your customers can then charge their e-vehicles with their own solar power and at zero cost.
With Sunny Design, you will plan solar plants economically and professionally and position yourself as an expert consultant in PV plant design.
Do you want to learn more about the features of Sunny Design?
More articles in the Sunny Design blog series:
How to design east/west polystring PV arrays The SMA corporate blog (sma-sunny.com)
No fear of shading on PV systems The SMA corporate blog (sma-sunny.com)
https://en.sma-jobblog.com/wp-content/uploads/2021/08/Blogbeitrag_SunnyDesign_210723_01.jpg
676
1400
Henry Valentin
/wp-content/themes/enfold-child/images/SMA-LOGO-Color_s-1.png
Henry Valentin
2021-08-17 12:20:11
2022-09-01 13:55:46
Why a north-facing system pays off