Zero Cost Electricity Bill – My Solar Journey Part 1
(Update 10 November 2022: Scott lives with his family in Australia).
Everyone dreams of having a zero dollar/euro electricity bill. In late 2019, my family and I made our own investment in solar system for our home. After just the first summer energy bill, it looks like the dream has already become a reality. Find out how, with our Solar system, we have not only reduced our electricity bill to zero, but have also begun to make our own small personal contribution to the global Paris Accord targets.
Zero Cost Electricity Bill
Getting a solar system is a great way to control your energy costs and improve the sustainability of your own home. Before getting a solar system, our house would consume on average about 18 – 22 kWh per day, normally costing about AUD $2,200 (€ 1,310) per year. But after receiving our first summer quarter bill since the installation of our solar system, that annual cost looks set to fall to zero even if our consumption from the grid is still ~10kWh per day.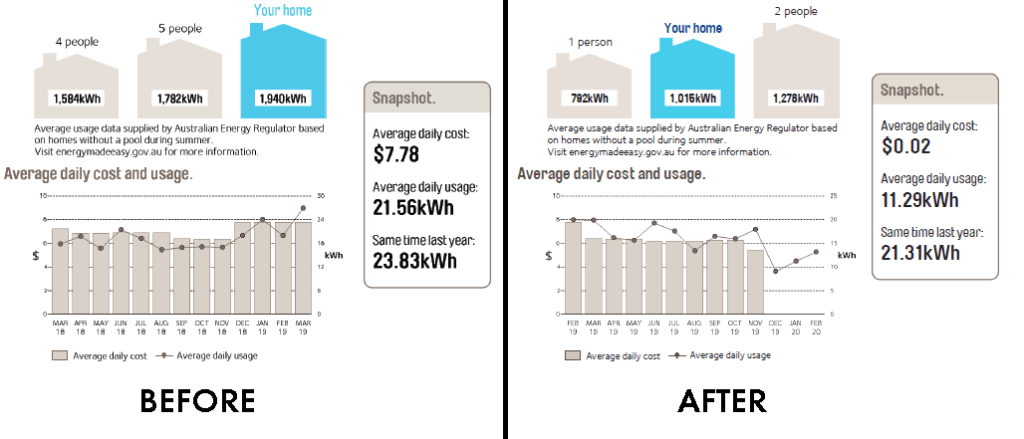 Getting the right system
Getting a solar system to achieve zero electricity costs means you need to get the system which is right for your own circumstances. For our home, we decided to get a 7.2 kWp PV system:
Sunpower Maxeon Solar panels (split on an East and West facing array)
Load Sockets for automated switching of our home appliances
Quality products can be wasted unless they are correctly installed. This is why we had our system installed by an SMA PowerUP Partner. Not only was the installation great quality, but as an SMA PowerUP Partner, they knew the most about SMA products and solutions and helped make sure we were getting the most out of our investment in solar.
Getting the right deal
When getting solar, it is a good time to check with your energy retailer for the best possible energy deal. As part of our decision to go solar, we also changed our energy plan to get the maximum financial return from our investment.
Making the most out of your solar
A solar system will generate electricity at a lower cost than you can purchase from the public grid. This is one reason why we made the investment in solar in the first place. The quickest way to make back the money you invested in your SMA solar system is to use the energy it is generating, at the time it is being generated. This is called "Self Consumption". For our home, so far we have had our self consumption as high as 44%, and been more than 60% independent of the public grid (all without a battery).
Solar power, that we cannot use for self consumption, we feed back into the grid. Our feed-in tariff is AUD $0.21/kWh (about 0,12 €/kWh).
With our SMA Sunny Home Manager 2.0 (with automated power sockets controlling our dishwasher, washing machine and clothes dryer), we are able to let our solar system run these loads to make the best use of our solar generation. Running other large consumers of energy such as home air conditioning in the summer and winter during daylight hours also helps to reduce our electricity consumption from the public grid.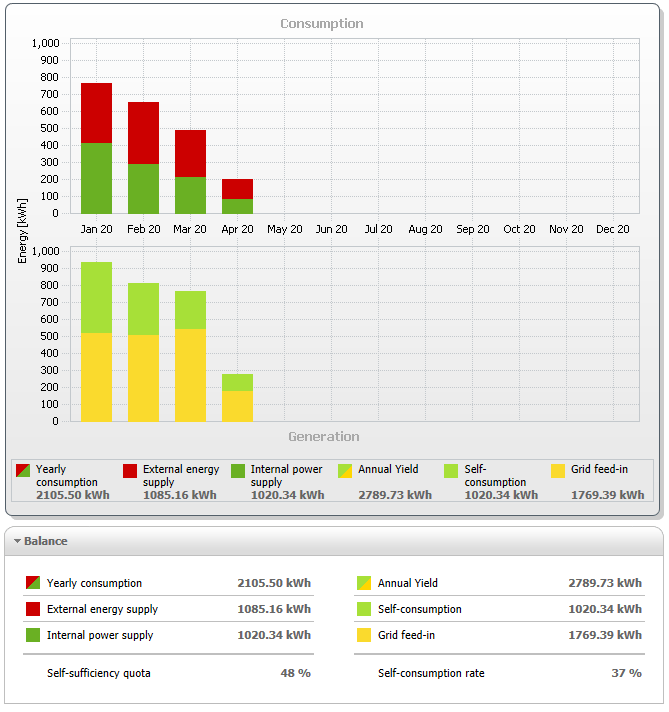 The months (& years) ahead…
Through the Autumn, Winter and Spring periods, we will track how our system is performing, focus on making even better use of our solar to both reduce our electricity consumption from the public grid, and further reduce our personal greenhouse gas emissions.
Stay tuned to the SMA Corporate Blog for our next update.
Do you also want to reduce your electricity bill and make your personal contribution to the energy transition?
https://en.sma-jobblog.com/wp-content/uploads/2020/04/kv-pv-plant-scott.jpg
676
1400
Scott Partlin
/wp-content/themes/enfold-child/images/SMA-LOGO-Color_s-1.png
Scott Partlin
2020-05-05 09:11:26
2022-11-10 16:08:55
Zero Cost Electricity Bill – My Solar Journey Part 1