Listen to SMA on the SunCast Podcast!
SMA expertise and market insight were featured on a live SunCast Media Podcast with Nico Johnson during RE+ 2022. When this program series started back in 2015 it was the first of its kind, sharing perspectives on solar energy for emerging markets and has now become a staple within the industry. In just one month, there are more than 20,000 downloads by energy and cleantech professionals.
Nhan Pimentel, Vice President of Home Segment and Jan Van Laethem, Executive Vice President of Home Solutions participated in a 30-minute interview, titled The Future of Home, live from the main exhibitor hall. The event was broadcasted on both the RE+ website, while also streaming from an oversized screen, front and center in the Grand Plaza. The episode took a deep dive into the knowledge base and perspective SMA has developed since 1981, being one of the longest-running companies in the renewable energy business
"SMA started with three university students who wanted to do things differently. They wanted to create electronics that did good, with a good cause," said Van Laethem. "After a few different technology trials, the students decided to focus on solar inverters. Since that moment, the mission of protecting and serving our planet has been embedded in the DNA of SMA."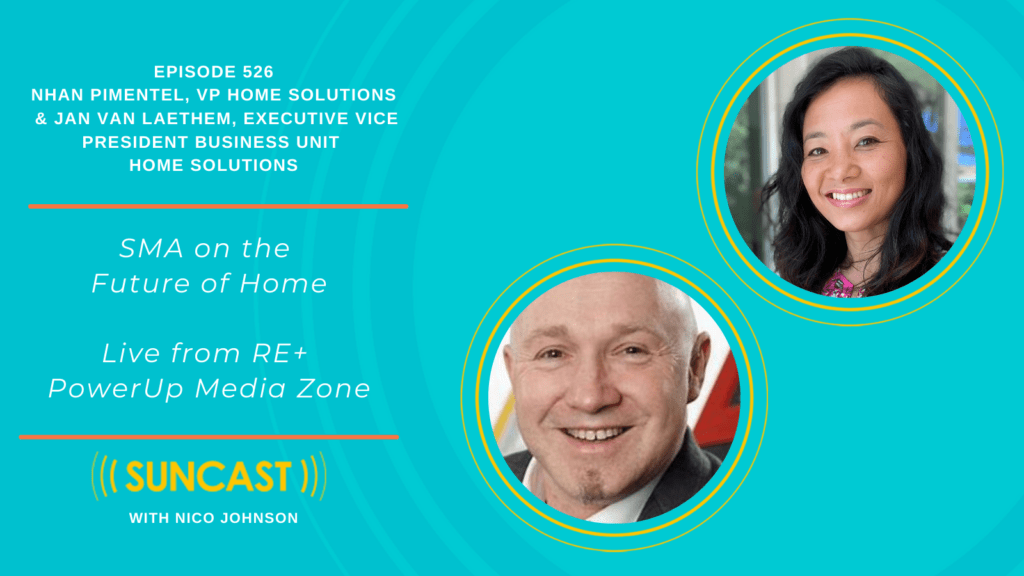 Pimentel and Van Laethem explain how SMA has remained an industry leader throughout these last four decades and plan to continue to be, long into the future. The episode highlights the importance of quality, energy neutrality and global learnings from global markets to the burgeoning market in the Americas.
Pimentel shares insight into the organization's international perspective while keeping a focus on the challenges and opportunities facing American homeowners. She explains the effect the rise of inflation and steady rate increases has had on the market as well as the new environment created when consumers are eager to feel more involved in, and in control of, their energy consumption.
The response from SMA is a new solution created to deliver homeowners more control at their fingertips through the SMA Home Energy System. This new platform will not only stabilize expenses, but it also brings tomorrow's technology into homes today.
https://en.sma-jobblog.com/wp-content/uploads/2022/11/9191C306-2B9C-4BF5-A928-D31C3557D7CA-scaled.jpeg
1920
2560
Alexandra Alejandro
/wp-content/themes/enfold-child/images/SMA-LOGO-Color_s-1.png
Alexandra Alejandro
2022-11-15 16:54:50
2022-11-15 16:54:50
Listen to SMA on the SunCast Podcast!