SMA Helps Prepare the Workforce of Tomorrow
For the past twenty years, SMA America has been proud to shape the energy supply of the future. From our groundbreaking inverter technology to an unsurpassed commitment to a more sustainable future, SMA is recognized around the world as a leader in the renewables market. There is no better way to help shape the future of the industry than by showing direct support to the training facilities, agencies and centers that teach the individuals this trade, throughout the country.
When SMA was approached years ago to help outfit the new facility for the Sacramento Electrical Training Center located at 2836 El Centro Road with equipment and products, the company gladly showed their support then. When a similar request came in for this same level of support most recently, SMA was thrilled to be able to be involved and help safeguard the future of professional electricians once again.
With over 75 years of success, the Sacramento Electrical Training Center has provided apprenticeships and continuing education for the organized electrical industry. Its mission is to educate the best trained professional electricians ready to meet the electrical construction needs of the Sacramento and Shasta-Butte areas.
"We are excited to once again have the support from SMA America and soon teach our students with these new, innovative products," said Chris Tillery, training director for the center. "The Sunny Boy inverter is recognized as one of the best on the market, having not one but three of these inverters at our school will surely elevate our capabilities into the future."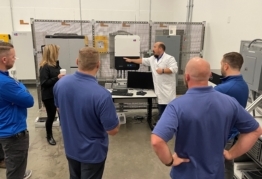 In October, SMA donated one working Sunny Boy US-40 and two demonstration units to the training school to be included in their upcoming renovation and training center upgrade. These units replace existing SMA products that were installed in 2005 and have been an integral part of the solar curriculum ever since.
When the donation was picked up at the SMA America headquarters in Rocklin, the team was given a tour of the office, which includes over 1,000 square feet of training space, a variety of active and display units as well as perspective on the SMA brand, and key market differentiation.
"It is clear that the future demands more trained professional electricians that understand the intricacies of the solar industry, its product offerings, the technological advancements and the needs of the end-user," said Tillery. "We are excited not only for the upcoming renovation of our facility, but also growth trajectory of the industry as we look to expand our partnership with the team at SMA."
https://en.sma-jobblog.com/wp-content/uploads/2022/11/Team-Photo-Up-Close-scaled.jpeg
1920
2560
Alexandra Alejandro
/wp-content/themes/enfold-child/images/SMA-LOGO-Color_s-1.png
Alexandra Alejandro
2022-11-10 20:33:34
2022-11-10 20:33:34
SMA Helps Prepare the Workforce of Tomorrow