SMA Recap of Key Highlights from RE+ 2023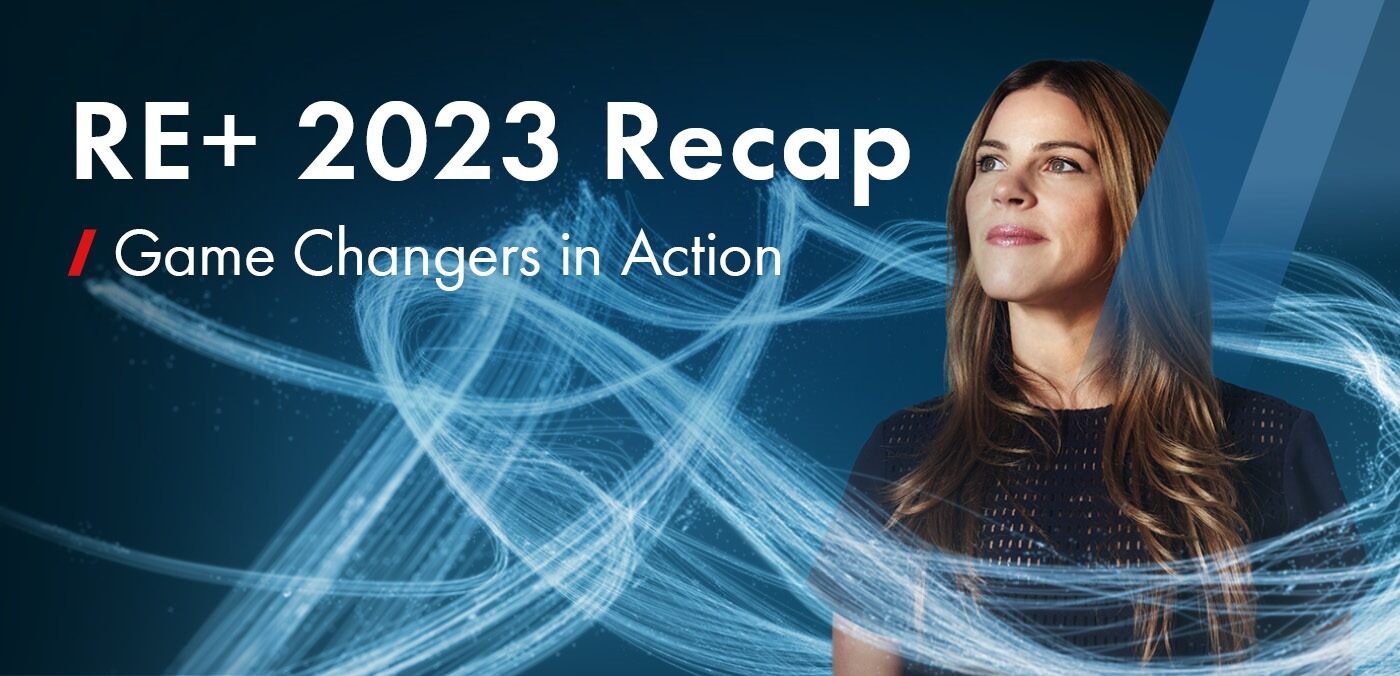 SMA America and 40,000 of the industry's brightest attended RE+ 2023 at the Venetian Convention and Expo Center in Las Vegas. The event, held from September 10th to September 12th, was a resounding success, attracting industry leaders, innovators and enthusiasts from around the world. This gathering served as a powerful testament to the global commitment to a sustainable energy future. From groundbreaking technologies to insightful discussions, here's an SMA recap of key highlights from RE+ 2023.
SMA Recap of Key Highlights from RE+ 2023
SMA Large Scale Energy Solutions Educational Series
In two dedicated events, members from the SMA Large Scale Energy Solutions team shared insight, perspective and market expertise to a customized audience focused on cleaner, more stable energy grids. The causal setting within the SMA booth allowed for an approachable, personal tone leaving guests with new knowledge on both gird stability services and repowering.  
SMA Home Energy Solutions Launch Event
For two hours on Tuesday afternoon, the SMA booth was transformed into a celebration of all things' positive energy with an exclusive event centered around a united love of the sun. With finely curated food and drink, special event giveaways and showcase of SMA Home Energy Solutions – guests left with a renewed commitment to 100% clean energy today and in the future.  
SMA Commercial Energy Solutions Premier Event
The perfect mix of event, product showcase and a good time – the SMA Commercial Energy Solutions Premier event brought together industry leaders, SMA expertise and perspective into one place and the result was incredible.
"To see this many of our partners, colleagues and customers together, unified in our commitment to bring 100% clean energy to businesses has been inspiring," said Chuck Smith, Vice President of C/I Segment. "We have had the privilege of sharing both our existing solutions at the event, together with a sneak peak of the development of our newest storage applications – truly showcasing the breadth and trajectory of our SMA brand in the commercial space." 
SMA & Unirac UL 3741 Deep Dive
SMA's Solar Academy Manager, Mike Mahon together with Unirac's Product Manager, Tristan Foley took guests on a deep dive into understanding UL 3741 from both a technical and practical standpoint. In this short, focused learning session guests had an opportunity to learn the fundamentals of this new solution, while applying practical use cases to better understand the application and opportunity to achieve rapid shutdown compliance without module-level shutdown devices.
SolarBuddy + Wyld Bikes Partnership
SMA America was proud to feature a non-profit partner, SolarBuddy in the booth at RE+ 2023 in a direct effort to illuminate not just physical spaces, but also hearts and minds, with the awareness of a critical global issue: extreme energy poverty. Having the opportunity to amplify this message, and vision, helped unite the attendees together with the SMA team with one impactful goal in mind. Wyld Bikes, a sustainable bicycle brand from Australia, provided an e-bike crafted from bamboo as a raffle prize.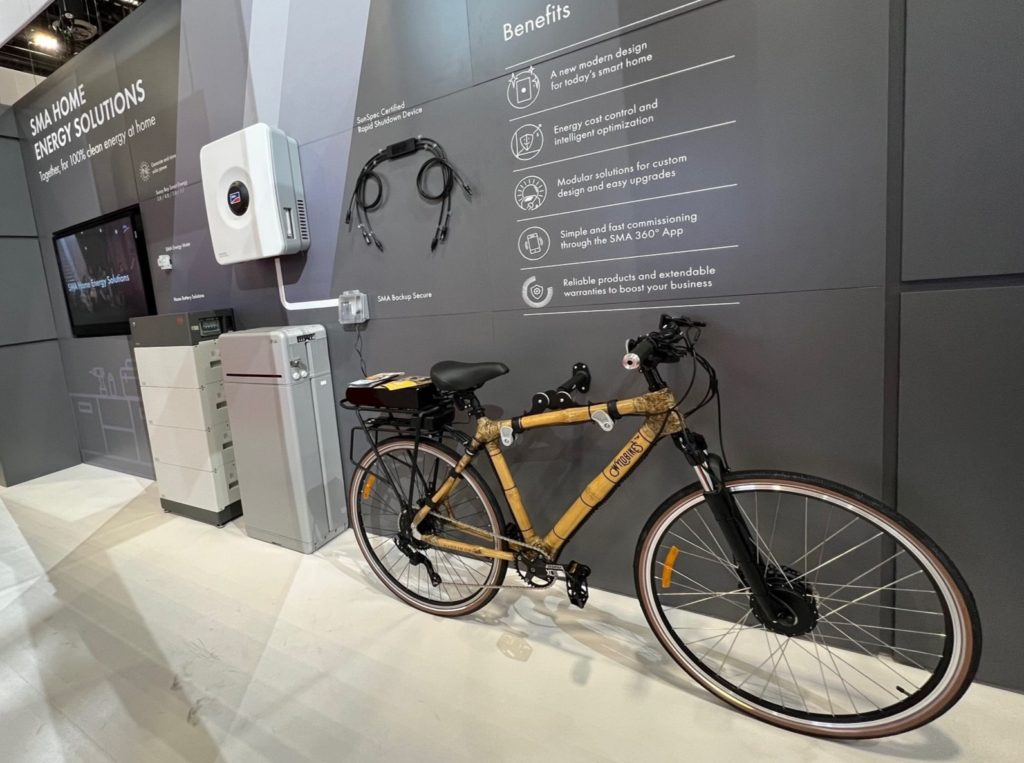 Media Attention
The media's interest in SMA America at the RE+ tradeshow in Las Vegas was palpable. All major industry publications visited the booth to learn more about the latest innovations, partnerships and solutions. Before the show's kick off Solar Power World, Solar Builder and Alt Energy Magazine showcased previews of what SMA America was going to highlight at RE+. The Solar Power World article covered new Home and Commerical solutions in addition to the exciting partnership with SPAN. Two days before the show opened Solar Builder released a sneak preview of what SMA America would feature at the show, and Alt Energy Mag wrote a comprehensive digest of top features not to miss.  
For more coverage check out the links below:
Solar Power World Coverage – Residential Trends 
Solar Power World Exhibitor Preview 
Renewable Energy News – RE+ SPAN 
In addition to the pre and post event media coverage, multiple SMA leaders were featured on the SunCast media podcast, live from the Re+ Media Lounge. The Know Before You Go episode highlighted the SMA perspective and brought together tips and tricks to navigate the tradeshow.  
In the upcoming weeks check back for Team SMA to share more interviews from RE+ as they go live.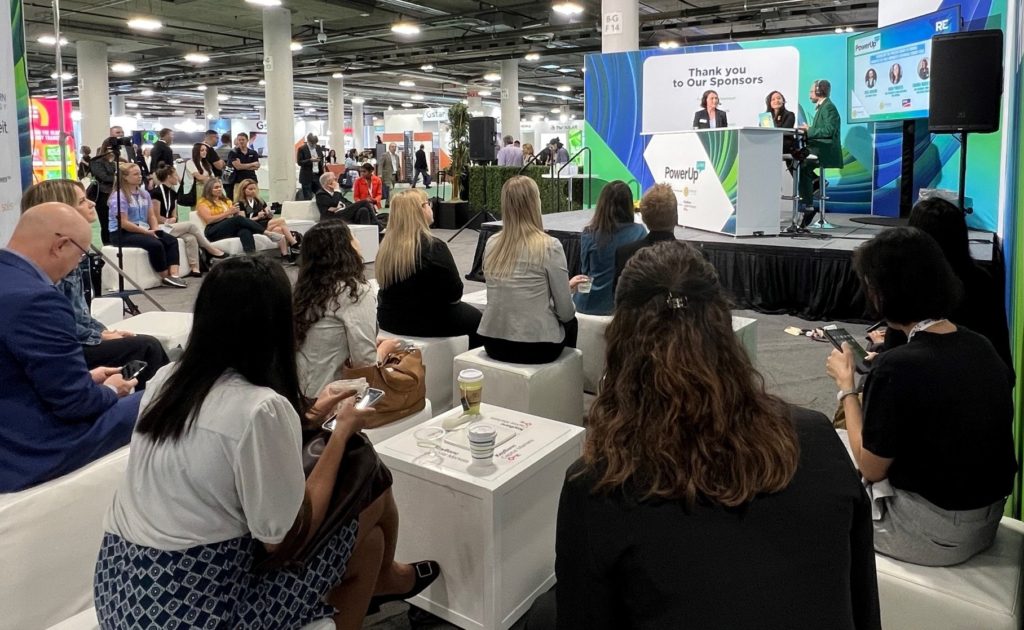 RE+ Partners
SMA is grateful for all the partners who collaborated across events to make RE+2023 a success. 
The partnership with BayWa r.e. took center stage. A casual luncheon featured updates about SMA's latest endeavors and opportunities for light-hearted trivia fun. It provided valuable insights for installers, enriching their knowledge about SMA's commercial and residential solutions. Other events with Rexel, Krannich Solar, and Wesco were the perfect opportunity to network with the best in the industry and share a toast to future collaborations. 
Throughout the RE+ event, the innovative Sunny Boy Smart Energy home inverter was prominently displayed across the floor. A special thank you to SPAN, Fortune Energy, Rexel, Krannich Solar, and BYD for giving attendees the opportunity to get an up-close look at this cutting-edge home solution. 
Reflecting on the event, it's evident that partnerships played a pivotal role in making RE+ a success. As we look forward to future collaborations and events, we remain committed to fostering these relationships and creating memorable experiences for all involved.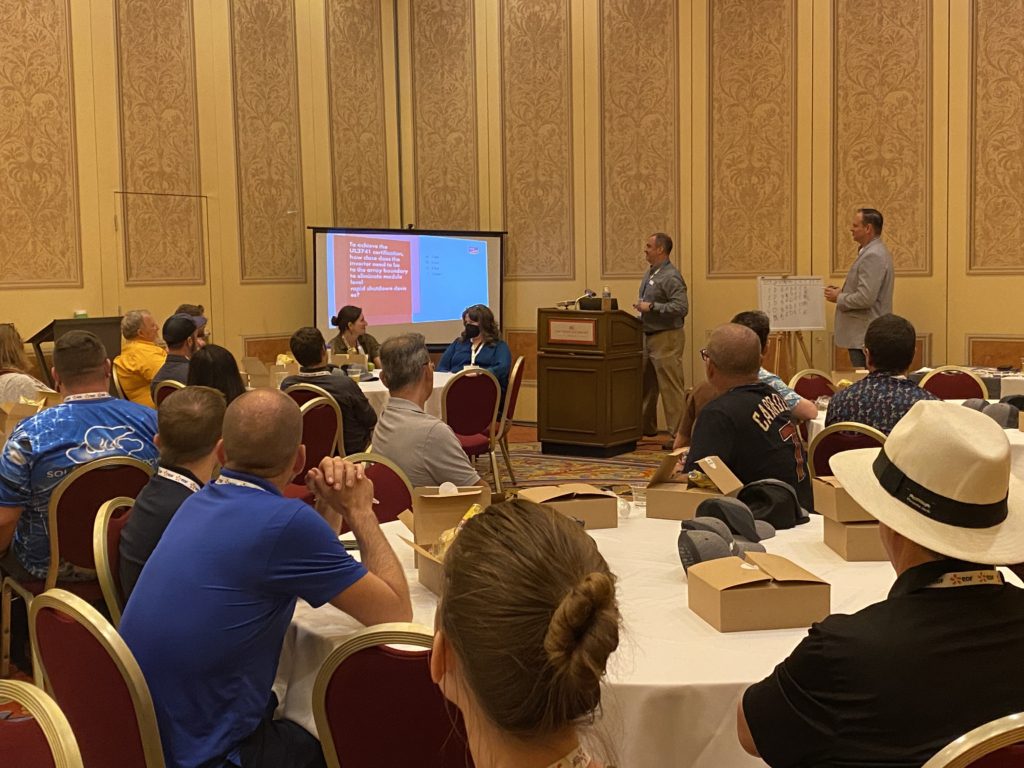 As we look back on the week spent at RE+ it is with utmost gratitude and appreciation for both our team, our partners and all that's to come in the future.  
https://en.sma-jobblog.com/wp-content/uploads/2023/09/230406_SMA_Intersolar_KV_FINAL-SQUARE.png
1000
1000
Megan Desideri
/wp-content/themes/enfold-child/images/SMA-LOGO-Color_s-1.png
Megan Desideri
2023-09-28 20:13:21
2023-09-28 20:21:33
SMA Recap of Key Highlights from RE+ 2023