Solar Spotlight: Naghtaneqed School Graduates to a Cleaner, Quieter Campus
Hakai Energy Solutions Delivers a Solar Hybrid Integration Project for Students in Canada!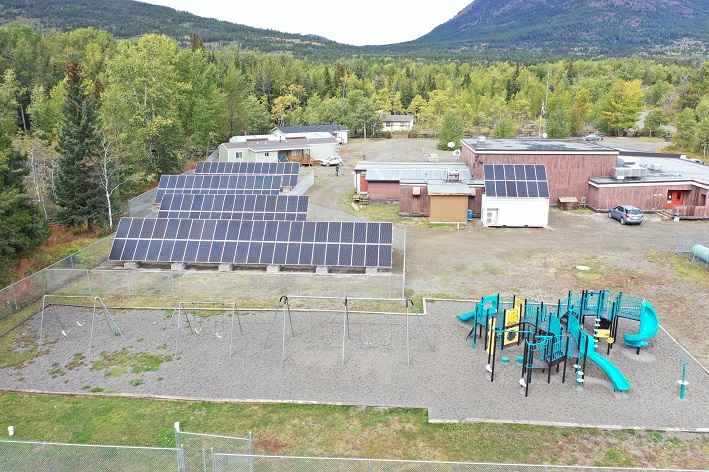 The Naghtaneqed Elementary School sits nestled in the expansive Nemaiah Valley, three hours southwest of Williams Lake, British Columbia. In this First Nations reserve and ranching community, the school has—until now—been fully powered by diesel electric gensets for more than 30 years.
High operating costs associated with fuel purchase and ongoing maintenance motivated the district to explore solar power. The reliance on diesel also introduced pollution and noise to the campus. Thanks to clean, renewable energy, those issues are drastically reduced concerns today. The Cariboo-Chilcotin district hired Hakai Energy Solutions to install a solar project expected to save the school $50,000 CAD, roughly $37,000 USD, in annual diesel costs.
In July 2019, the school district invested in a hybrid energy system that integrated solar energy production, advanced energy storage and an expandable inverter platform. Utilizing 140 high-output solar panels, 118 kilowatt-hours of lithium energy storage and SMA inverter technology, this system was designed to offset diesel consumption by reducing generator operation by 6,900 hours each year.
Impressively, Naghtaneqed School is expected to recoup its investment in roughly seven years through reduced fuel consumption of approximately 38,400 L every year, plus generator maintenance and replacement cost avoidance. Not to mention, emissions reductions are also estimated at 2,534,000 kilograms of CO2 over the 25-year lifespan of the system, equivalent to 19,500,000 kilometers driven by a car.
"We've used SMA products from day one, and they're simply unbeatable in terms of reliability, functionality and serviceability," said Jason Jackson, energy system designer with Hakai Energy Solutions. "Working in remote areas makes product selection vitally important. Over the years, we've worked with every major manufacturer of inverters, and these experiences have only reinforced our confidence in SMA products. Every employee in this company—from the installation crews to the finance department—is on the same page. From a team perspective, SMA offers the most dependable and bankable suite of products on the market."
In November 2019, the solar hybrid integration project was completed at the school. The total size is 57.6-kilowatt PV with 120 kwh lithium (LiFePo)-based energy storage and features 45 and 60 kW gensets. Every year, an estimated 72 megawatt-hours will be generated. What kind of impact does that have on energy consumption? A full 80% of the school's energy will now come from the sun.
This PV array includes Longi Solar72 cell Mono bi-facial solar panels, six Sunny Islands, 1 SMA multi-cluster box and one 50 kW SMA CORE1. The district received funding for the entire project through the Ministry of Education's program for carbon neutral funding via a community improvement award from Clean Energy B.C. for the project.
"This project has helped us meet our goal of reducing our environmental impact and improved the quality of experiences students have on our campus," said Alex Telford, manager of facilities and transportation for the Cariboo-Chilcotin district. "When you factor in the cost savings, it's a win-win-win!"
Visit our photo gallery to enjoy more pictures of this project!
https://en.sma-jobblog.com/wp-content/uploads/2013/07/Speicherdurchsatz-und-Speicherkapazitaet-EN.jpg
988
1529
Alexandra Alejandro
/wp-content/themes/enfold-child/images/SMA-LOGO-Color_s-1.png
Alexandra Alejandro
2020-04-02 12:23:57
2020-10-26 14:56:07
Solar Spotlight: Naghtaneqed School Graduates to a Cleaner, Quieter Campus